Last week littlegem wrote a review about an inflatable toy we received, here is what happened next from my perspective.
It's the weekend, littlegem has been given some alone time upstairs. Usually this is to allow her some time to write, but this time she is masturbating. It's for a purpose, we've received a sex toy to try out and review so she is taking the time to do so.
An hour and a half later she comes downstairs. I know she's been filming because of the make up she is wearing. Typically she'll want me to take the camera and look at the footage myself, this time it's a secret.
She's up to something and I don't know what, this isn't how it goes, I do the planning and surprise her. But I like that she's thinking about me, making an effort to do something, whatever it is.
Later, in the evening she shows me what she has been doing. Introduced with this video:
If you are unable to see the video, littlegem in her cute nervous manner is holding the toy and playing with it. Talking to it and being hilarious, which perhaps isn't the tone she was going for. She says that she'd like to try the toy on me, to test how I'd like the different sensations and settings. Whilst I watch this video she is nervously watching my reaction.
I agree, it sounds like fun. Besides an inflating vibrating toy up my arse could be exactly the toy I've been looking for. Littlegem is prepared and has stowed some lube and some silky gloves, knowing that I like the feel of them.
The Play Begins
On screen she has now lent back and is about to slide the toy inside herself. It's difficult to know where to look as I have a view of her playing with herself on screen and the real her about to begin play. 
She is gentle and allows me to get comfortable to the feeling of the toy. I have asked for it to be inserted turned off. When deflated the insertable part is smooth and doesn't widen after the tip. Therefore once the first part of the toy is in the rest easily follows.
I'm a little apprehensive, when she presses that button it is going to inflate inside me and I have no idea how that is going to feel. I have seen it inflated so know how big it'll be. My experience being that most anal objects feel bigger than they appear.
Meanwhile on screen she has inserted the toy and inflated it. The thickened toy is now being pulled in and out and I can see the lips of her vagina stretch as it slips in and out. She is clearly enjoying herself. 
I give the command for her to begin and the toy vibrates instantly which is a slight shock. Soon after I can feel the inflation inside me. Its not unpleasant, but it's not as intense as I imagined. But I know that is this the smallest inflation level. The settings are clicked into the larger, then the largest setting. Now I feel full, pre cum is starting to leak from my cock. I ask to feel the toy move, the stretch can be really felt when littlegem pulls it out a little. There's no way it's coming out, not on this setting, but it does feel good. With quite a lot going on I know there is only so much I can take, not from orgasm, but from having something large inside. But I want to see what else it can do so ask for another setting.
On screen the angle has changed, much closer now. The thickness of the toy combined with the way its forcefully pushed inside her causes her to squirt multiple times. The camera is in the firing line as I see a line of liquid squirt over the top. 
With a press of a button the setting inflates and deflates the toy quickly, I can really feel it. The movement does feel good as the toy squeezes and contracts within me. It would be ideal with combined cock pleasure, but I ask to stop. I'm enjoying myself but there is a slight achy pain that is making me uncomfortable. After all I'm not used to this, but I'm willing to give it another go.
I truly believe that the best way to achieve male orgasm involves intense anal pleasure, which this can give. The smooth silicone allows easy insertion and the inflation itself isn't uncomfortable. It feels similar to a large butt plug without the stretch of insertion or withdrawal, however that might be something to be enjoyed. No doubt the experience can be bettered with more attempts to get best positions and setting. But for now I'm pleased that littlegem encouraged this.
As for littlegem, she finishes her video experience by pointing the camera down, showing how wet the floor is. Her satisfaction has sprayed in all directions, she'll have to review more toys like this again.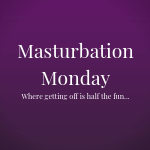 Although not a review as such, in the interest of transparency we were sent the toy (Yuanse Inflatable Expansion Vibrator) from Bestvibe for free in exchange for littlegem's honest review.