Bestvibe contacted us to see if we like to review some products, of course we jumped at the chance and Bestvibe asked me choose anything that took my fancy from their site. This was very exciting and after a bit of browsing through some interesting products I came across the Yuanse Inflatable Expansion Vibrator. This was something completely different to anything we have used before and it is fairly versatile as could be used both anally and vaginally (after a good clean of course) so both me and PS could test it out. 
Inflatable Expansion Vibrator: Quite the mouth full
Well perhaps not intended for your mouth, but full indeed. So the inflatable part is certainly the bit that was most interesting to me. I like to feel full and the idea of being slowly inflated appealed a lot, albeit to that part of me that squirms and doesn't want to admit it. 
I decided that I wanted to put on a show for PurpleSole, but one he was to watch later. That way I could use the toy exactly how I wanted and surprise him with watching the video together. The only problem was I am not meant to orgasm without his permission, being a good girl I didn't want to break the rules. I decided that I would just have to risk being denied and told 'no', after I messaged him whilst playing with myself.
Inflatable Expansion Action 
Camera setup, toy in hand with a good coating of lube. The Inflatable Expansion Vibrator only has two buttons so pretty easy to use. A quick flick through to familiarise myself with the controls, big button to change modes and little one to deflate/ power.
Sliding the length of the toy inside I press to the first mode. I can feel the pressure inside my vagina as it is slowly inflated. This is the first mode so the toy is only slightly inflated but it feels interesting and I want more. I press to deflate and click to the next mode. A tingling as the vibration ramps up slightly then more pressure as I feel the squashy walls of my vagina being parted by the toy. I'm feeling more full and I decide I want to fuck myself a little with the expanded bulb. It rubs against my g-spot as it glides in and out of my moist entrance, I really enjoy the feeling of my lips parting to make way for it. The sensation reminds me of PS's hard cock pushing itself inside and gives me an idea.
The toy warmed I remove it still inflated and slide it length ways between my vagina lips. The heated inflated silicone feels wonderful vibrating on my sensitive skin and I work it right up to my clitoris. The body of the toy pushing and moving my clitoral hood back as I continue to work on it, the vibrations sending sparks of pleasure through my core. The vibrations are strong and only on the second mode still, I move the length of the toy away from my clit as the feeling rises, sliding it back once the wave has settled. Edging myself to prolong the enjoyment. The Inflatable Expansion Vibrator has a little teat on the end that stays deflated, just the perfect size to slip under a clitoral hood for an intense massage of vibrations. I tease myself further exploring the toy before feeling hungry for more girth.  
Full inflation
Placing the deflated bulb at my vagina opening I press it just inside, slightly parting my lips but not fully inserting it. I click the toy to the third mode, the largest inflation and highest vibration. Groaning as the toy pushes against the muscles at my vagina opening, the toy inflates, I grip it tight to ensure its not squeezed out. I feel stretched from the inflated toy and wonder what I must look like. Once fully expanded I fuck myself further with it and know I am not going to last much longer. The feeling of the large bulb inside is amazing, the pressure of the air inside it makes the silicone delightfully firm inside me. Using my fingers on my clit I circle them, the explosive orgasm soon follows expelling the toy with the force of my convulsions.    
Inflatable Expansion Vibrator: Final thoughts       
The Inflatable Expansion Vibrator looks like a very stylish black swan with a rose gold collar on. It's a nice soft silicone that once lubed up glides in very easily even while inflated. There are 7 different modes which are fun to flick through but I really just preferred the largest inflated mode best. There were a few things that if I could change about the toy I would. The first being that once it was clicked to deflate you couldn't then re-inflate it in the same mode. I loved the feeling of the toy inflating inside me, as I said the largest mode was my favourite. But once I had deflated it I either had to click through to another mode to get it to inflate again or turn it off and on again and re-set the desired mode. Bit annoying when you are in the midst of playing.
The second thing I found, that could just be user error. Was I kept clicked the buttons by accident, I had built myself up to near orgasm and *click* my hand had accidentally nudged the button and the toy deflated. Or most annoyingly peak of orgasm and *click* toy switched to a different mode. Like I say might be how I was holding it but lets face it who pays attention to hand position when fucking them self.
So far we have used the Inflatable Expansion Vibrator quite a bit but I am not certain on it's longevity. Once deflated the end part near the teat seems to get stuck at a funny angle and we have to manoeuvre it back into place so I am guessing eventually it will tear through the silicone.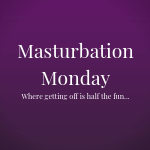 If you were wondering about the show, it will be ready to view in the next couple of days on my OnlyFans… PurpleSole is yet to experience his show and surprise (Also this is the first post I have ever written that I have told him he is not allowed to read yet) I will let you know how it goes!
---
In the interest of transparency we were sent the Yuanse Inflatable Expansion Vibrator from Bestvibe for free in exchange for an honest review. We do not receive any money if you were to click through to their site and purchase one.
If you are interested in any of our other reviews please see our Reviews of Rarity.